There's nothing quite like spending some time in the great outdoors— that fresh air, those endless skies, and the wide open spaces are always timeless in their ability to excite, challenge, relax and delight us. With 1,400 square miles of gorgeous California landscape under its belt, Placer County is the perfect place to get reacquainted with the great outdoors and make some unforgettable memories with the people you love. Not sure where to start? Here's our guide to a few campgrounds, trails, recreation areas and parks that are always guaranteed to provide some memorable outdoor fun. 
For more trip ideas, visit our blog or check out our Placer Ambassadors, who can help guide you through a few of the county's local, lesser-known sights, locations and activities.
Auburn State Recreation Area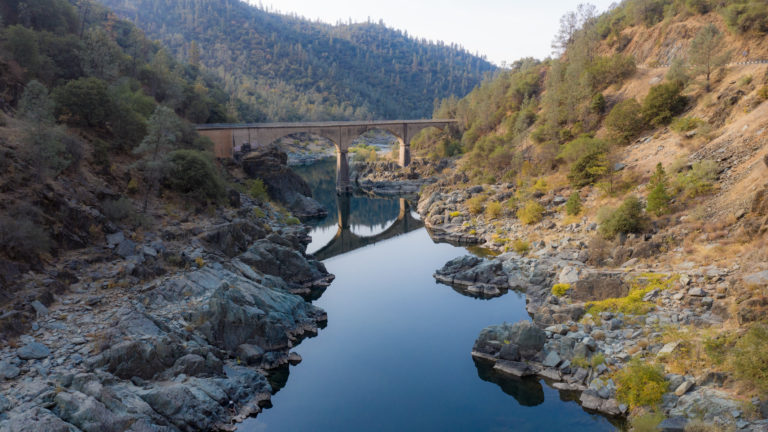 If you're after great views, you can't do much better than the Auburn State Recreation Area, located right in the heart of Placer County gold country. Covering 40 miles of the North and Middle Forks of the American River, the recreation area offers direct access to both the river and the sweeping canyon that surrounds it. Imitate the gold miners of yore and pan for gold in the river, test your mettle on a whitewater run, or enjoy a quiet picnic under lush, shady trees— no matter what you do, this state park is bound to impress. For more Auburn-area travel recommendations, check out our Placer Ambassador's guide to Auburn's best beers and trails (a perfect combination, if you ask us).
Big Meadows Campground
Big Meadows Campground is one of those places that just feels a little bit like a fairy tale, with rolling hills, open meadows, and towering trees as far as the eye can see. Open June through October of every year, this 53-site campground, an open meadow surrounded by lodgepole pines and red fir, offers a central location to some of the area's most sought-after activities, including swimming, fishing, picnicking and boating. Only 5 miles away is Hell Hole Reservoir, and don't let the name fool you— this gorgeous man-made reservoir is truly heavenly. Fish, kayak, camp or hike as you explore its gorgeous rugged landscape!
French Meadows Campground
Located on the south shores of the French Meadows Reservoir is French Meadows Campground, a family-friendly spot that offers boating, canoeing, fishing and swimming within the reservoir's stunning waters. If rivers are more your thing, the North Fork American River is nearby as well. The best part about this campground though? It gives you direct access to some of the area's most famous trails, including the Pacific Crest Trail, the Western States Trail and the Granite Chief Wilderness. If you're an avid hiker, the most difficult part of your trip will be deciding which trail to embark upon!
Granite Bay & Beal's Point Recreation Area
If you're looking to enjoy Folsom Lake, Beal's Point Campground might be just the place for you. The campground has 69 sites that can accommodate tents, trailers and RVs, as well as a stocked snack bar that rents water equipment like kayaks, paddleboards, rafts and more. The Folsom State Recreation Area gives visitors direct access to 95 miles of running, hiking horseback, and biking trails, including the American River Bicycle Trail— 32 miles of paved trails that follow the river all the way to Old Sacramento. If you're craving a little history, stop by the Folsom Powerhouse, a historic alternating current (AC) power station from 1895. 
Ruck-a-Chucky Bar Campground
For those looking to get into the wilderness a little more, Ruck-a-Chucky is the perfect place to go. This five-site, primitive campground is located right on the north side of the American River, and happens to be one of the only campsites in the Auburn State Recreation Area that allows a four-legged friend to come along with you on your adventures. Fish, swim and splash around with your pooch in the river's cool blue waters, but be sure to get here early! The campground does not take reservations and is first come, first serve.
William Kent Campground & Beach
William Kent Campground is the best of both worlds for visitors who want to camp in the forest and still be steps away from the beach. The main campground, tucked into the majestic pines and firs of the Tahoe National Forest, offers 76 campsites and even a few yurts for those wishing to get a little more comfortable, though for more temporary guests there is a day-use area just across the street. The campground offers direct access to the paved trail that follows Lake Tahoe's shoreline, so don't be scared to hop on two wheels, strap on your helmet and get riding!
Lake Clementine Boat-In Camping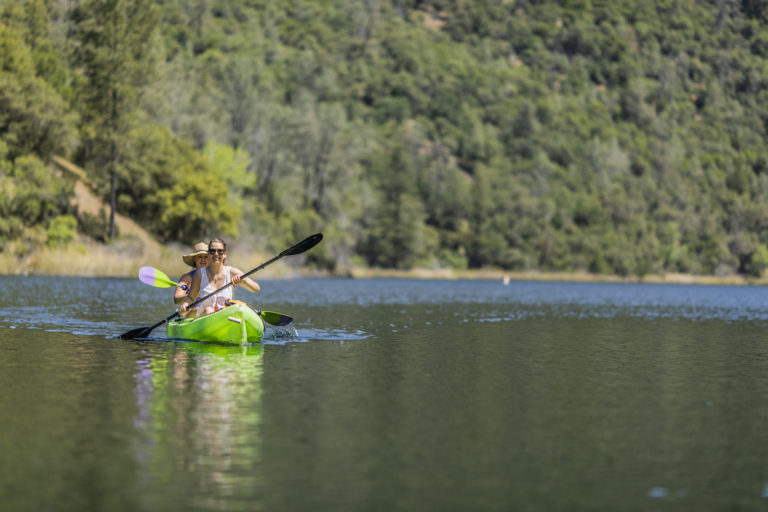 An expansive reservoir located at the base of a stunning canyon, Lake Clementine offers great fishing, numerous water activities and stunning views of the Sierra Foothills. Anglers can cast their lines in the hopes of catching some of the lake's signature fish, including rainbow, brown and brook trout, large and smallmouth bass, carp, catfish and more, while water sport enthusiasts can test the lake's calm waters with water skiing, wakeboarding and kayaking. One of Lake Clementine's most famous activities is its boat-in camping, giving sailors access to 15 primitive campsites that have floating restrooms, picnic tables and fire rings. Camping is only open May 1-September 30, so be sure to get down there before it gets too cold!