Have you ever tasted something and instantly known that it was fresh, or a labor of love? Placer County takes pride in being able to provoke that feeling of undeniable freshness in locals and tourists alike, and we're making it easier than ever to sample the fruits of the area's labor with our ultimate guide to farmers markets, food and other family fun.
For more trip ideas, visit the rest of our blog or check out our Placer Ambassadors , who can help guide you through a few of the county's local, lesser-known sights, locations and activities.
Explore Farm-Fresh Farmers Markets
You'll be able to find a variety of farmers markets throughout Placer County, all of which only offer the freshest and highest quality produce. Stop by and choose from seasonal agricultural products, crafts and other handmade goods while supporting local businesses and farms!
Every Saturday morning you'll find a variety of family farmers, ranchers and artisans gathered together to bring some of their finest goods to the Old Town Auburn Farmers Market. Take your pick of the freshest produce and agricultural products, as well as a large selection of craft and artisan wares. This market is open year-round, so you can stop by whenever you're in the area! Check out more PlacerGROWN Farmers' Markets here.
Founded in 1947, what began as a single individual selling produce on the side of the Southern Pacific Railway Yard has blossomed into a local farmers market staple. Denios Farmers Market & Swap Meet is well-known for being home to some of the freshest agricultural products and artisanal goods from around the community, and is also open year-round, rain or shine, Friday-Sunday.
Embark Upon the Placer Wine & Ale Trail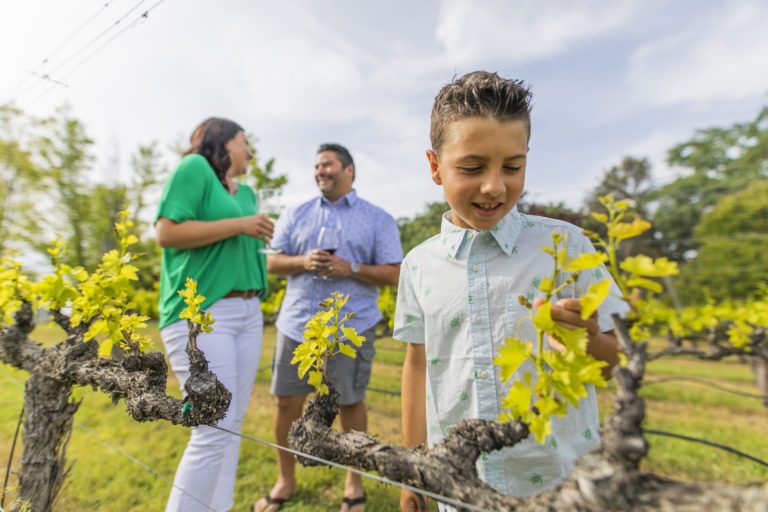 Placer County is situated within the Sierra Foothills American Viticultural Area (AVA), one of the largest AVAs in the United States. As a result, winemaking has always been a deep part of Placer County's identity, and the selection of varietals grown in the area includes Zinfandel, Syrah, Barbera and many more. 
If hops are more your thing, don't worry— Placer County has also had a foundational role in the craft brewing movement that has swept the nation in past years. Sample one-of-a-kind brews while enjoying a fun, relaxed social setting at one of the many breweries scattered throughout Placer County. Several are even on a farm setting where they grow their own hops and other ingredients. For more beer-related fun, check out Placer Ambassador Kelly Root's blog on the best Beers and Trails in Auburn! 
Perhaps the easiest way to explore the winery/brewery scene in Placer County is the Wine & Ale Trail, download the Wine & Ale Trail map that guides you through 23 boutique wineries, 15 craft breweries, 1 craft distillery and dozens of tap rooms and wine bars. Enjoy a personalized experience as you explore small wineries that have been in families for generations, and sample the unique varieties of wine offered in each one. 
Traveling with a little one but still wanting to explore Placer County's wine and beer scene? We've got you covered with Placer Ambassador Gennifer Rose's blog on Kid-Friendly Breweries and Wineries in Placer County.
Say Hello to the Best Brunch Ever
In Placer County, people understand that brunch isn't simply a meal— it's also a celebration of friends, family, life, and all the amazing food you're hopefully about to chow down on. Here are a couple of our favorite places to spend a lazy morning/afternoon dining with the people we love.
Awful Annie's has been voted KCRA's "Best Breakfast in Sacramento" six years running, with no end in sight to the love that locals and visitors give to this breakfast and lunch eatery. The restaurant offers indoor and outdoor dining so you can enjoy the beautiful Placer sunshine, as well as a full bar in case you feel like getting the party started a little early.
Though not a traditional sit-down restaurant, Tahoe House Bakery & Gourmet always offers delicious fresh baked breads, pastries, drinks, cakes, deli lunches and more—perfect fare for a picnic-style brunch. As one of the last real "Mom and Pop" bakeries in the area, Tahoe House takes pride in their large selection of sweet treats, savory goods and everything in between. 
Chow Down at a Food Festival
If there's one thing for sure, it's that Placer County knows how to throw a food-themed shindig, evidenced by the large number of fairs, festivals and events dedicated to honoring the area's fruitfulness throughout the year. Stopping by one of these lively local events is a great way to get a taste of some of the local harvest and have a great time doing it.
Every year, Loomis CA— a charming small town located between Roseville and Auburn— plays host to the Loomis Eggplant Festival. This annual gathering has grown to be a renowned celebration of everyone's favorite purple fruit as well as the town's rich agricultural history. Stop by to enjoy a delightful blend of music and entertainment, gourmet and festival food, kids' activities, arts & crafts, a cooking contest and dozens of booths from local organizations and businesses.
The Gold Country Fairgrounds in Auburn has been proudly running the Mountain Mandarin Festival for 28 years and counting, and the event now welcomes more than 30,000 people annually. As the name suggests, mandarins are the star of the show at the festival. Local growers set up to sell thousands of the finest mandarins straight from the lush Sierra Foothills, and the sweet zesty fruit makes its way into vendor stalls throughout the festival in everything from body lotions to barbeque sauce, as well as in food stalls in the form of mandarin pizza, wings, donuts and more.​​ The festival marks the official beginning of the Placer County Mountain Mandarin season.