Winter is undoubtedly one of Placer County's most magical seasons, with blankets of snow covering the landscape and practically inviting residents and visitors alike to explore what the mountains have to offer. We don't want to leave you out in the cold when it comes to winter in Placer County, so here's our in-depth guide to making the most of your winter adventures here.
Safety First
Before you start exploring the county's winter wonderland, let's talk about how COVID is going to impact your travel and activity plans. Destinations like North Lake Tahoe are doing their very best to keep you safe while you enjoy everything Placer County has to offer, whether you're skiing down powdery mountains or finding a local restaurant to try. For more information on safety measures, please visit individual sites or, for North Lake Tahoe, check out their Know Before You Go Guide that details area-specific precautions. 
Sledding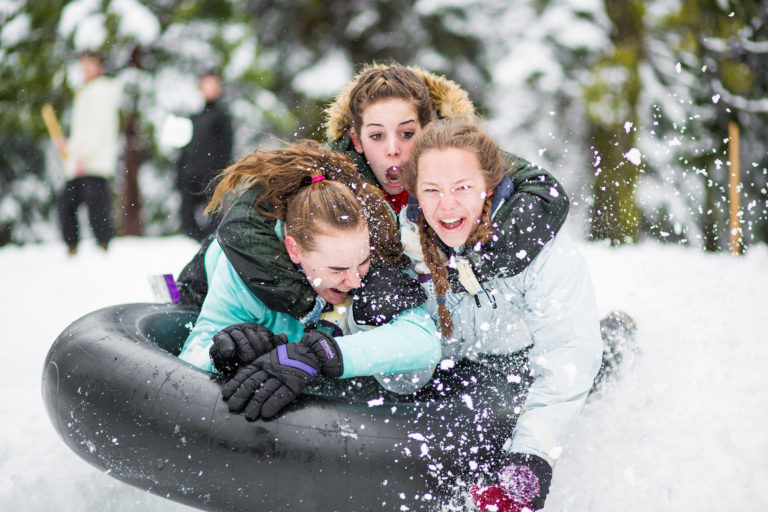 Photo credit: Erik Bergen, Placer County
For both the young and the young at heart, sledding down a powdery hill is great snowy fun for all! Sledding in Placer County proves that you don't have to be a pro skier or snowboarder to enjoy a snow day, and with several prime locations for sledding, there's always a new place to check out. Most importantly though is to only sled in designated areas – no illegal parking or sledding from the side of the road. Make sure you review "slediquette" tips from Take Care Tahoe. Hold on tight and see you at the bottom!
Grab a sled and take part in one of the Kingvale Snow Park's many activities, including sledding and snowmobile tours. Please note that inflatable tubes are currently not allowed due to safety concerns.
California's SNO-PARKS are a great place to participate in winter fun while supporting state parks. These parks are scattered throughout the area, but we recommend the ones at Donner Summit and Tahoe City. SNO-PARK permits must be purchased online in advance. 
The small, gentle slopes of Nyack Snow Park are great for young children and those who want a less intense sledding experience. The park's pass is good for the whole day, and visitors are free to bring their own BBQs and do some grilling in the parking lot.
Sledding is available in 90-minute sessions, booked on-line in advance, which includes sled rental. The sledding hill is groomed between each session to ensure perfect sledding conditions.
This large park in Tahoe Vista offers a designated sledding area and users must bring their own sled equipment. A gentle children's sled hill is at the park entrance and a larger sledding hill at the upper level of the park.
Snowshoeing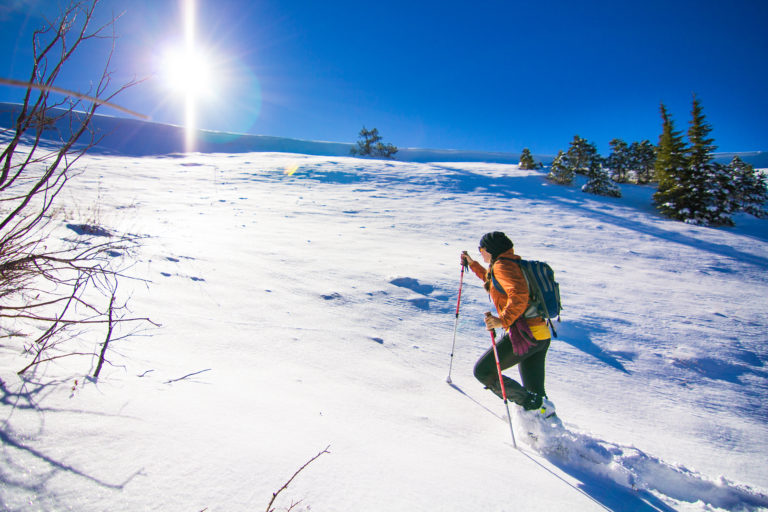 Photo credit: Erik Bergen, Placer County
Snowshoeing is a fun and easy to learn winter activity, for those who prefer their winter adventures more leisurely. Trek across beautiful alpine landscapes and enjoy the great outdoors as they were meant to be experienced— free from crowds with plenty of fresh, open air. Several companies offer guided tours, however, if you want to give it a try on your own, Tahoe Dave's can get you outfitted with rentals. 
This aptly-named "adventure company" offers high-quality, guided snowshoeing tours for people seeking out a more backcountry winter experience. For some particularly special views, take a full moon or sunset snowshoe tour.
This resort offers everything from snowshoe rentals to guided tours, a perfect experience for beginners and experts alike. As of the 2020/2021 season, Homewood now offers private guided snowshoe tours, so make your reservation and go explore!
Trek through the beautiful meadows of the Sierras by the way of Tahoe Donner's 11 km of singletrack trail, designed to accommodate every level of experience. Snowshoers are also free to explore the 100 km of ski trails that run through Tahoe Donner Cross Country Ski Center, as long as you stay on the edges of the trail!
Guided snowshoe tours through Shirley Canyon in Squaw Valley are available Saturday and Sunday mornings through this magical winter wonderland.
Ice Skating
Ice skating is a fun and exciting winter activity, a great option whether you're a family looking for a day's fun or a couple wanting a romantic date. Thankfully, you don't have to be a Winter Olympian to own the ice, just put one foot in front of the other! Here are some of the best places to glide and slide on the ice around Placer County.
At this charming winter sports park, visitors can enjoy the convenience of a lodge and restaurant across from the ice rink so you're always just a step away from a cozy fire and a warm mug of hot chocolate.
Truckee River Regional Park is also a great choice for people looking for a simple and elegant ice skating experience. The rink offers public skating, skate rentals, private lessons and various other activities that will have you skating like a pro in no time.
After you're done skating and admiring the stunning view of Squaw Valley's six peaks, you can warm up with a delicious hot chocolate and a roaring fire.
Skiing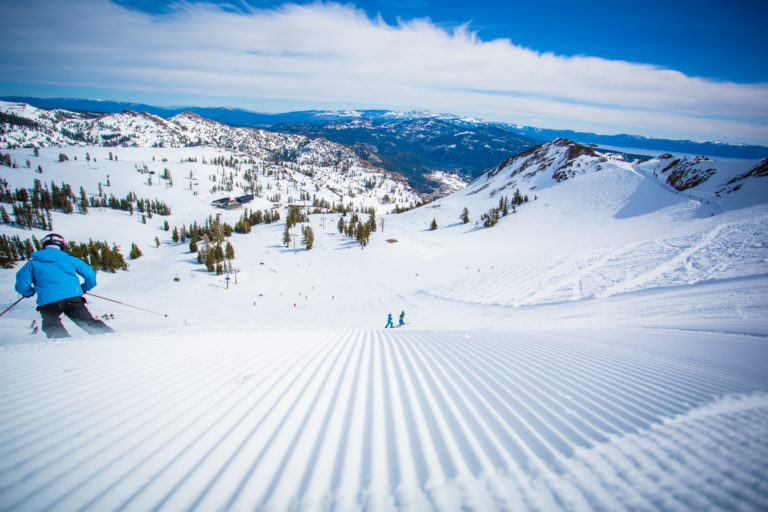 Photo credit: Erik Bergen, Placer County
Whether you're a first timer or a devoted "powder hound", you don't have to look hard to find great locations to hit the slopes in Placer County. World-famous for prime skiing conditions, the Lake Tahoe area is the perfect place to hone your ski skills. Remember to check and see if you need a reservation at your resort of choice as well as winter safety precautions. 
As the largest cross country skiing resort in North America, Royal Gorge is a place you won't want to miss on your skiing adventures. The resort offers a more backcountry experience, encouraging skiers to indulge in some classic cross-country skiing to explore the hidden parts of the gorgeous alpine landscape.
With 65 km of skate and classic tracks groomed daily, the 24 ski trails take you through forests and meadows, some with stunning views of Lake Tahoe. Three warming shelters along the trails offer a chance to warm up and catch your breath along the way.
Soda Springs offers a more quiet and casual winter sports experience, making it a great place to get acquainted, or reacquainted, with the snow. The resort also has their "Mountain Adventure" park, offering tubing, a snow play area and ski/snowboard lessons.
As the largest canyon on the west shore of Lake Tahoe, Blackwood Canyon holds endless adventure for those with the desire to explore it. In addition to great backcountry skiing, the area also offers unrivaled cross country skiing and snow play activities. 
Here is a map of all Tahoe-area downhill and cross-country resorts to help plan your adventures.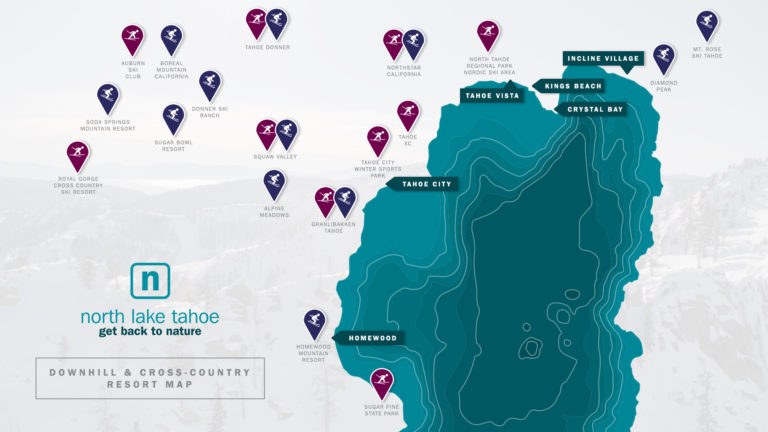 Snowmobiling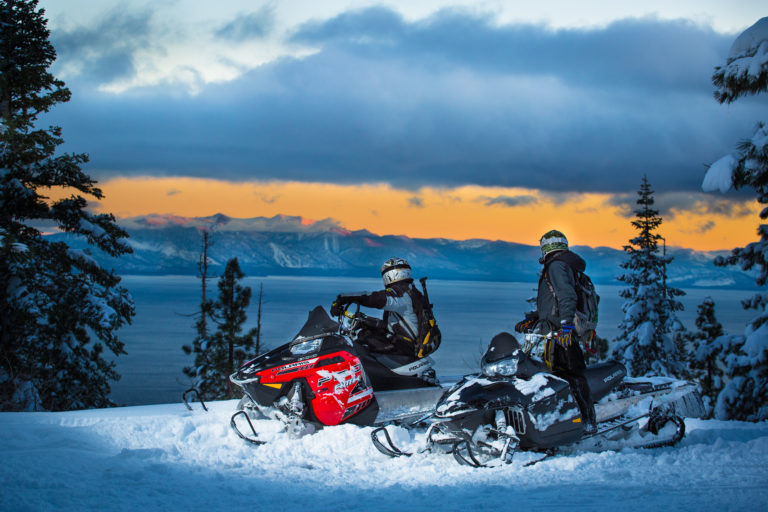 Photo credit: Erik Bergen, Placer County
For those looking to take their winter adventures to the next level, snowmobiling is a high-octane, high-reward activity for the daredevil in all of us. Explore the Lake Tahoe wilderness like never before and check out these exciting snowmobiling options.
Since 1985, Lake Tahoe Snowmobile Tours has been serving the community with winter fun and guided snowmobile tours. With over 100 miles of trails that wind through Tahoe National Forest and lead to stunning views of the lake, this is one tour you won't want to miss.
Ride through Truckee's beautiful Coldstream Canyon during one of Coldstream Adventure's 2-hour snowmobile tours, a perfect way to see the area and indulge in a thrilling winter adventure.
True to its name, this vehicle rental company provides everything you need to explore the beautiful alpine backcountry, including snowmobiles. This is a great option for those looking for a less-guided, more independent adventure.
Off Roading
Some people dread driving in the winter, but others see it as a new way to get out and explore the winter wonderland that lies before them. If you're one of those people, we're here to help. Here are a few of our favorite off-roading venues that offer speed, adventure and limitless fun. 
This staging area is a perfect place for snowmobiles, cross-country skiers and snowshoe users or to hop on your 2-wheeled OHV and explore. When there is snow on the ground it is an easy and accessible location for kids to play in the snow but there are no designated sledding hills. Winter closures vary by weather and trail conditions, so call (530) 478-6254 x228 for up-to-date closure information.
This staging area offers 100 miles of marked and rated trails for ATV and motorcycle users. It's also just down the road from China Wall, so you can make a day of your off-roading adventures. Closure is dependent upon soil quality, so don't forget to check the hotline with a recorded closure status report at (530) 367-2224 x228.
This campground's 350 acres stretch across Tahoe National Forest, providing a stunning variety of activities, trails and amenities for anyone paying a visit. They are currently closed for short-term camping, but aim to reopen soon, so start planning your OHV excursion now!