Planning the Ultimate Weekend Getaway in Placer County, California
After a long week, there's nothing quite like hitting the road and spending a few days somewhere that isn't home. These shorter weekend trips are a great way to get out, experience something new and be back in time for work on Monday. 
Placer County is the perfect place to escape to for a few days, and its variety of activities, eateries and sights means that there's always something new to see and do. With 1,400 square-miles of California to explore, picking what to do during your Placer getaway is no easy task. Whether you thrive on spontaneous adventures or prefer a more planned trip, this post will give you a good idea of the limitless experiences Placer County has to offer and hopefully put some hidden gems on your radar for next time you're here.
For more trip ideas, visit our blog or check out our Placer Ambassadors who will guide you through a few of the county's local, lesser-known sights, locations and activities.
Outdoor Fun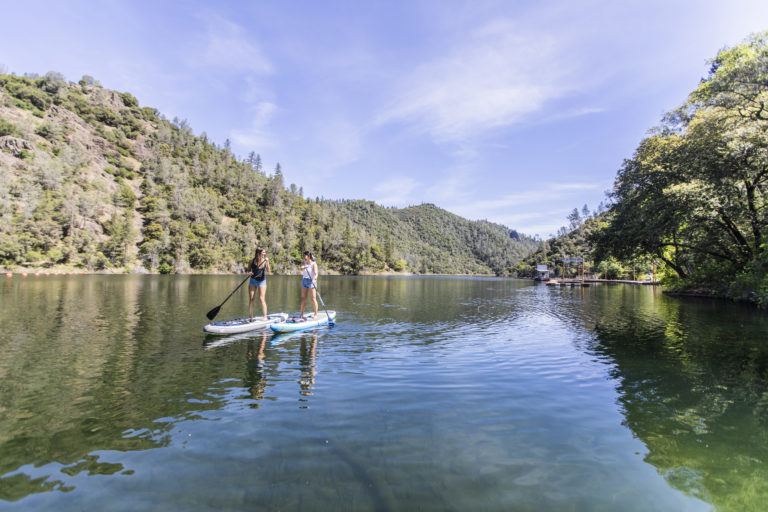 The Tahoe Via Ferrata at Alpenglow Rock Climbing
The Tahoe Via Ferrata  at Alpenglow Rock Climbing is an assisted climbing activity that allows even the most novice climbers to feel like they're on top of the world. Climbers use the system's permanent ladder rungs, steel steps and suspension bridges to navigate one of four routes, all varying in difficulty and length—The Great Escape, The Loophole, Skyline Traverse and Sundial Arete. Don't worry about falling— climbers are always equipped with a safety harness that will catch you, 100% of the time. While you're up there be sure to enjoy the gorgeous panoramic views of Squaw Valley and the Sierra Nevada, just don't look down!
Geocaching at Squaw Valley High Camp
One of our favorite activities is geocaching at Squaw Valley High Camp. Geocaching combines hiking with treasure hunting, and is actually often called the world's largest treasure hunt! Using GPS coordinates, participants use the Geocache app to find hidden caches with goodies all over the world. 
Ride the scenic aerial tram to High Camp and explore the mountain while you search for the 6 caches that are hidden in the area. Each cache has a prize and a finders log for you to fill out so you can record your geocache victories. Finding all 6 caches will take around 3 hours and requires a moderately difficult hike, so know your limits, bring sunscreen and drink plenty of water!
Action Whitewater Adventures
If you're looking to get your heart pumping and have a great time doing it, Action Whitewater Adventures is the place to be. Featuring expert staff, helpful guides, delicious food packages and a stunning riverside campground, exploring the American River and conquering its rushing rapids has never been easier. Choose your preferred fork of the river (south, middle or north), all unique in rafting difficulty, scenery and length. Availability varies by season, so check to make sure your preferred fork is open when you plan to hit the rapids! If you don't want your whitewater adventure to end, you can always take advantage of Action Whitewater Adventures' one-of-a-kind campground that is located right on the banks of the South Fork of the American River. Check out these other Whitewater Rafting companies as well for additional guided trips.
Hidden Falls Regional Park
Located in the beautiful oak woodlands near Auburn, Hidden Falls Regional Park offers 30 miles of multiple-use trails for hiking, running, biking and equestrian riding – so you're covered with whatever activity you desire. Trails range from difficult to family friendly to please everyone. Two observation decks provide viewing access for the waterfalls and habitat along several creeks, and picnic areas offer a chance to relax among nature. Open daily from sunrise to sunset, online parking reservations are required on weekends and holidays. Once you snag your space in advance, you are free to enjoy the day exploring the area. Don't just take our word for it— Men's Journal recently included Hidden Falls in a round-up of the 15 best running trails in America. 
Boarding on the Lake – Trail Rides
Explore the trails surrounding Folsom Lake and Granite Bay with a scenic horseback ride. Boarding on the Lake provides professionally-trained horses and all the gear you need to take a peaceful ride through some of the natural beauty Placer County is known for. Tours are two hours long and go up Mooney Ridge, through the forest and back along the lake, so you get a chance to see every part of this gorgeous state recreation area.
Shopping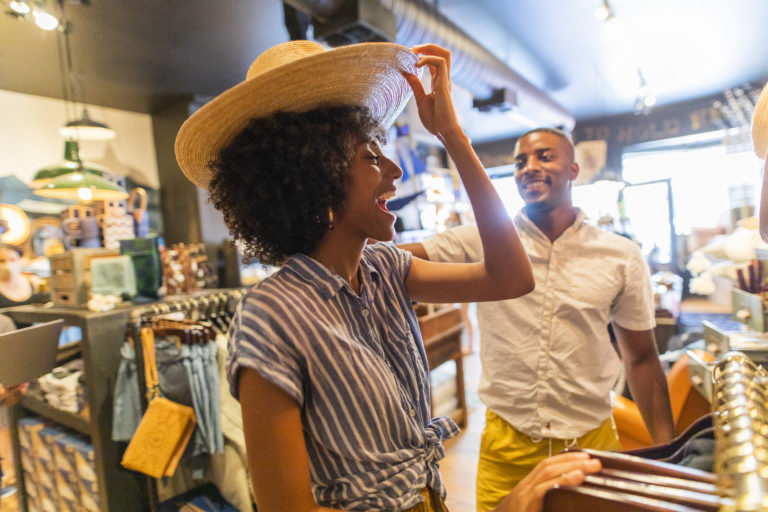 Antique Trove
Time for more treasure hunting! Instead of mountains, however, you'll be exploring Northern California's largest collection of retro, vintage and antique items. With 40,000 square feet of exhibition space, Antique Trove is the perfect place to find those hidden treasures you can't find anywhere else, including decor, clothing, furniture and more. If you're looking for a fun souvenir from your weekend getaway, this is the place.
Avantgarden
Find even more unique items at Avantgarden, a boutique-style nursery and gift shop that lies at the center of Historic Downtown Auburn. House plants are an easy and fun way to spruce up any room, and Avantgarden offers a large selection of patio plants, succulents, houseplants and pottery for you to choose from, as well as unique jewelry, lotions, soaps, candles and more.   
For more vintage finds, explore the historic towns of Loomis, Auburn, Newcastle and Colfax to find the smaller antique shops that are a little more off the beaten path. 
Dining and Drinks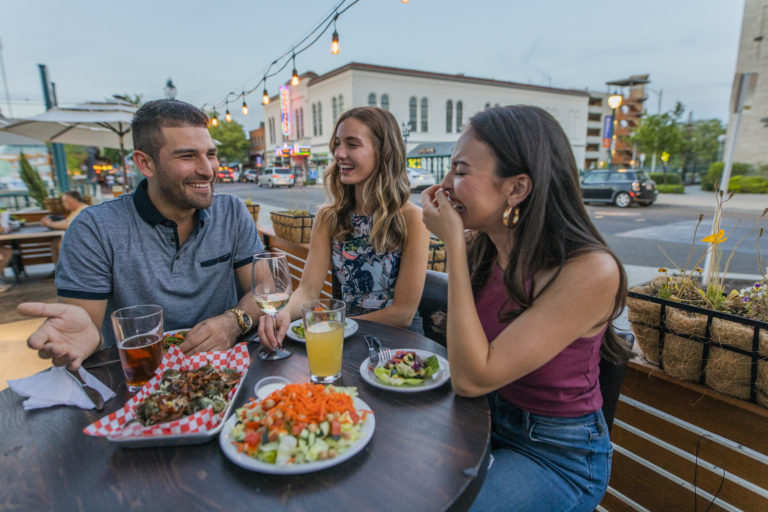 Rancho Roble Vineyards
Rancho Roble Vineyards is your gateway to the rich winemaking traditions of the Sierra Foothills. Partake in a wine tasting or a tour of the winery and vineyards, or just relax and enjoy its comfortable, family-owned atmosphere. If you foresee getting hungry, you can always pack a picnic and enjoy the stunning views in one of the winery's many grass and picnic areas or alongside the pond.
Crooked Lane Brewing Co.
Crooked Lane is a brewery that specializes in great ambiance and even greater brews. Using their 15-barrel craft beer system, this local favorite focuses on traditional English ales, German lagers and West Coast-style IPAs while providing a spacious area for visitors to relax, have fun and enjoy some quality beer. 
Auburn Alehouse Brewery
The Auburn Alehouse is a historical brewpub and restaurant whose food alone is enough to merit a visit. Enjoy a large menu of mouth watering dishes, from poke nachos to a Nashville Hot Chicken Biscuit, and don't forget to save room for one of their handmade desserts.
Enjoy their small-batch brews, which all are carefully made using their special in-house brewing process. With a selection of year-round, seasonal and "brewer's special" beer, picking which one to try is no easy task.
The Alehouse building is also quite significant to Auburn's town history, and its storied past involves a few blazing fires, an execution and a bonafide Hollywood production. Learn more about the building's history here!
Buzz Thru Joe's
Buzz Thru Joe's is a locally-loved coffee joint in Colfax that serves up a delicious selection of breakfast burritos, bagels, muffins and pastries. If you're in a hurry, zip through their convenient drive thru and get a quick bite to eat on the way to your next adventure.
22 Bistro
Placer County is at the heart of farm to table cuisine, and the area is overflowing with abundant farmland and delicious fresh food and produce. 22 Bistro uses this access to local ingredients to craft their selection of unique "New American" dishes while boasting an expansive wine list, craft cocktails and beer on-tap. Their menu offers small plates to share as well as more substantial dishes that are sure to fill you up after a busy day of climbing mountains and white water rafting. Located at the base of Squaw Valley's towering alpine mountain, KT-22, there's nothing like sitting on 22 Bistro's deck during the warmer months and enjoying a cold drink while looking out at the stunning views of the Sierras. 
Fun fact, the mountain is named for the 22 kick turns it took ski resort pioneer Sandy Poulsen to get down the mountain in 1946!
Restaurant Josephine
One of the newest restaurants to hit the Auburn scene, Restaurant Josephine evokes a 1920's Paris bistro mixed with gold-rush era Auburn. Tucked into the historic Odd Fellows No. 7 Lodge, a stately brick building that dates back to 1894, Restaurant Josephine embraces the rich history of the Sierra Foothills. Once inside, you'll be swept away by the décor and even more importantly, the food. A blend of French bistro and Eastern European flavors, everything is inspired by what's in-season and available at local farms, including their own Four Tines Farm in Auburn. It doesn't get more local or farm-to-fork than this. Specialty cocktails are thoughtful and creative while elegant desserts will round out your meal. Whether you start with oysters or the Potato and Bacon Piroshki or go with classic Steak Frites or whatever is on the daily seasonal chalkboard menu, you can't go wrong to celebrate your time in Placer County.